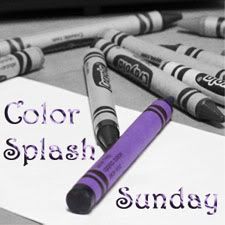 Last night when I went up to cheek on my l sleeping boy, who fall asleep all by him self with out me putting him back to bed 1000 times. I guess it is easer for him to go to sleep if he doesn't have his nap. When I got up there I found the most cutest thing. He had his fire engine, probably his most favourite Christmas present. It makes noise and he can push it around. We haven't showed him the fact that it can splash water, that can wait till summer and he is out side. I can't give it to him in the bath ether because it has batteries and it would brake if it got wet. Smart design, wounder who had that idea.

So this is my weeks picture for Amy's colour splash Sunday
So head over to Amy's blog Artistically Amy for more colour splash photos.