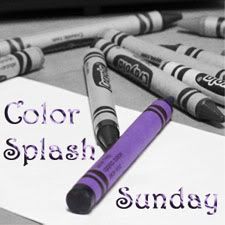 Mr Mar JR has finally discovered how to use the block thing, there are only 3 shapes on this one, round, square and a triangle. About a week ago when I gave it to him to try he didn't get it. Now, its all new and he gets it, I think he did it about 20 times this day. The first time he did it I helped him and he always choose the same color till it was gone then went on to the next one. Now he just picks up what ever one and inserts it. It is so fun to watch. I love watching the kids learned new things.
So head over to Amy's blog
Artistically Amy
for more color splash photos.