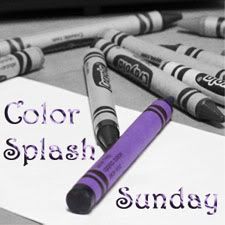 It is the first sunday of the month again (ok monday) and it is your choice week again. I accualy edited this photo a while ago for a your choice since we have already had the theme flowers, there is no need to save it up for then. We went for a walk out around the block where my In Laws have a garden and while walking I saw this 2 coloerd flower. I have never seen a flower with 2 colors like this, I have seen flowers with 2 colors but they are usaulay totaly radom or one color on the out side and one on the inside. Not one half one color and the other half a deffent color.
So here is my 2 colored flower.
So head over to Amy's blog
Artistically Amy
for more color splash photos.