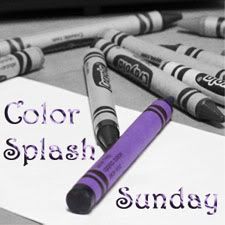 Yeah, I never made it to Prater, the only amusement park in Vienna, its just too expensive to go there as you have to pay for each ride separately,

not that would stop me taking photos there

,

I just wasn't home most of last week

, so we never really go there. The last time I was there was just after Mr Mar Jr was born. But most parks have these coin machines where you put in €1 and 5c and the 5c get pushed into an oval shape with a picture from the park.

This is the first time I actually blurred the back ground on a picture, It defiantly makes it look allot better.
So head over to Amy's blog
Artistically Amy
for more color splash photos.