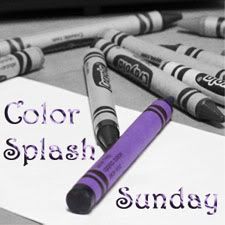 Amy is back from looks like a very nice vacation. To start things back up the theme is your choice.

'I have been using quite a few photos from last week when I was at my grandparents house. In the forest close to them, where also my grate grandmother and my granddads Aunty's family are berried is this very lovely cemetery, it is a nature cemetery, or in that way anyway. Basically you are only allowed to use rocks as the head stones, what then usually have a cross on top and a mettle plaque on it saying who is laying there.

The photo I have used is the cross on a grave, I don't know who's, but i really liked the old look of the roses.
So head over to Amy's blog
Artistically Amy
for more color splash photos.