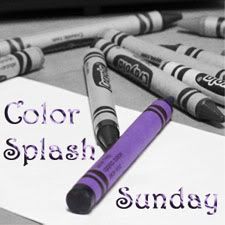 This weeks theme is chosen by The Mommy over at
Twenty Little Toes
.
MMMMMM, I love food, being a chef I guess that is good that I love food. But to tell you the truth I do not have on photo of food on my laptop that would look good to color splash. Guess I was lucky I didn't have to start cooking something that will look good to color splash in the end. Didn't feel like taking the time for that. So instead I went to work with my partner (who is a pastry chef) and took a photo of the restaurant he works in. Since I was there during the afternoon brake no food was being sent so I couldn't take photos of food then ether.
I actually really like the logo of this restaurant, it is located on the Junden platz, (Jew square) where a memorial for the Jews stands. And all around are old Viennese buildings. Walking through town yesterday, I remember how much I just love the architecture here.
Well onto my photo. From Ella's
Head over to Amy's blog
Artistically Amy
for more color splash photos.