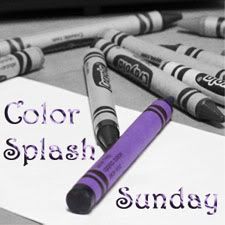 I KNOW I KNOW. It has been AGES since I have blogged. Just so much going on & Age of impairs has found its way into my hands again. Currently we are helping my grandmother redo her bathroom. Or better said Mr Mars Farther is, I am there more for morel support for her. I have been getting a going away party ready or at least trying to play it before we move. Tieing up loose ends, and it is only 2.5 more weeks till we go.
I am still doing my project 365, I think I'll have to do one MASSIVE post from the last day I have uploaded pics, Just need to edit them. I have also been backing up all my photos, This can take for ages, LOL, I should do it more often. I back them up to DVDs and to an external hard drive.
So to colour splash Sunday, I took this photo on the 14th, valentines day, a local mall was handing out roses to the ladies going there they also do this at mothers day. When I got home I took some photos of it.
So finally linking up this weekend again, Also it is grate to see how many are joining in now, LOL, I start to drift of with my linking up and it starts to get busy.