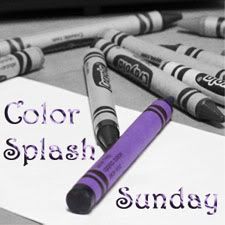 What a fun theme, I actually wanted to take some pics of this necklace out of green stone (green jade) that my mum gave me for my 21st on a plant at my grandmothers, that we gave her 2 years ago. Its a
Amorphophallus Rivieri
Though I have to say my grandmother is doing a MUCH better job with this plant then I am, I did a bit of googling to find the "english name
only found the latain one
" I can found out it should flower after 4-5 years, well ours is defiantly older then that and we have never had a flower. The cool thing about them is that the brunches have tear drops on them. Though not often.
Well all for all here is my photo with my 3 little trees, (though you can only see 2) OH and my green stone necklace that I got for my 21st. I love this thing.
Guess I'm lucky that the linky stays open till Wednesday, since I am just a little late at posting this it is Tuesday evening. So quickly head on over Amy's blog,
Artistically Amy
for more color splash photos.