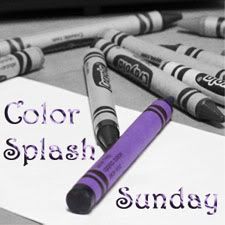 HI all, I am back home now, so off onto doing my photo blog again. I actually missed playing with my photos and reading blogs. We had a Grate time Over in New Zealand the surprise that we gave my mum worked GRATE, she did not have any idea at all what was going on. I hope to get a few pictures up, from over there, but we probably took 3141 photos, so allot to go through, I am just making a short movie (about an hour) for the family from the trip over there, still wishing I could get adobe premier again, that is the program I used at school to make movies with and I loved it. Maybe one day I'll have the money for it.

Anyways, back onto this blog, I took this photo in a the train on the way to my grandparents in June i think it was, I love the way Ms Mar is looking and her piercing blue eyes on it, I had edit this photo AGES ago always hoping for the theme to come up, then about a month ago Amy asked for ideas for color splash photos, my first idea of course was eyes.
So head over to Amy's blog
Artistically Amy
for more color splash photos.